If you're still looking for the perfect gift for BFF or maybe looking to treat yourself to something that will be both fun and functional then we have some ideas for some of the newest gadgets that may enhance your workout and your downtime. Tech Accessories can provide many of us with some much needed motivation to get back on the fitness track after the gluttonous Thanksgiving weekends. For instance, some of the new wireless headphones provide amazing sound that remains clear even though there might be a very noisy background like an exercise bike, gym noise, or street traffic. We also find some of the fitness watches to be well worth their investment as they will help you get the desired results. However be careful if you are buying these as gifts for the holidays as they may be difficult to give up once you see what they can do.
Working out – Weather on a cardio device like a treadmill, exercise or free cycle, or more intense machine then you go with an in-ear or ear bud type of phone. The over the ear are certainly now more comfortable than they were before but there is just no way to avoid the perspiration that accumulates if you're doing anything that will have a meaningful impact on your heart rate, not to mention not staying in place or being restrictive. With that in mind here are our choices for In-Ear and earbud sets.
Monster ISport Victory – The iSport Victory is Monster's premium in-ear wired sports headphone. It comes in a couple of different colors and retails for around $150 in the US, (and the can also be found on amazon for around $120) the in store price is a little high so try to find it online but it does offer a great fit and is one of the better sounding in-ear sports headphones out there. I'm a fan of the iSport Victory and have been using it for a while, though I'm gravitating more toward Bluetooth headphones for running and working out at the gym these days, so part of me kind of wishes this came in a wireless version. That said, the headphone has a few things going for it. First, thanks to the included SportClip "winged stabilizers" — those soft plastic appliances that fit into the inside of your ear — it offers a very secure, comfortable fit and you can get a good, tight seal. As a result, bass performance is very good. Overall the Victory sounds quite good and delivers more refined sound than the earlier and less expensive iSport Immersion, which has been discontinued.
Now earbuds aren't designed to give the features, sound, or amenities as others and they're not capable of it, so make sure you don't pay for it.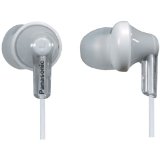 Even the price of the original replacement Apple ear buds are way too expensive for today's market. You should be able to get a quality pair for well under $20 and here is a great example, the Panasonic ErgoFit RP-HJE120 cost less than $10 and you will not find a better sound at even a high price. Once again, they do what they do so do look to connect them to your Sonos system but to get on the bike or treadmill you won't find a better fit to match your intensity. They come in multiple colors for those of you whom do want to coordinate your outfit accordingly. At this price, you're more apt to see a hard-bud earphone, but being able to jam the soft tips into your ears helps with sound isolation and maximizes the bass output. I was able to get a tight seal with the largest of the eartips, and I actually thought the earphones were comfortable (in keeping with the ErgoFit name) and they stayed in my ears well.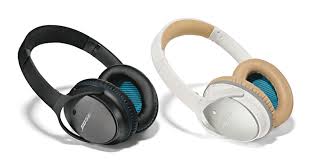 Bose Quiet Comfort 25 $299 – There are pros and cons with every set and we are yet to find the perfect pair, all things considered we blend the price with the all the other aspects and this came out on top. Powerful lows and crisp, bright highs with no distortion at top volumes. Exceedingly comfortable. Best noise-cancellation technology available. Can be used as passive headphones without power. Bose's QuietComfort 25 over-ear headphones feature excellent noise cancellation and sculpted, powerful audio performance. Bose's noise cancellation circuitry continues to be the best in the business. Although the in-ear Quiet Comfort 20 blocks out more ambient noise, the new QC 25 does an amazing job of shutting down the drones, whirs, and hums of modern life. You can still hear someone talking to you fairly easily when the QC25 is engaged; with the in-ear pair, someone could be trying to talk to you and you might not even notice. However, the entire QC lineup including this pair manages to simply be the best at reducing the constant clamor of work environments, planes, trains, and machines. The only con we could find is that ir runs on a AAA battery rather than a built-in, rechargeable option. Sculpted sound signature is not for purists. No auto-off function.
Sennheiser Momentum Wireless $499 – Powerful audio performance with intense bass response and sculpted high-mids and highs. Active noise cancellation in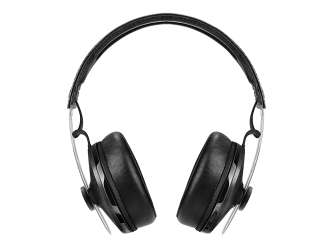 addition to Bluetooth audio. Can be used passively in wired mode as it provides you the option to go wireless or wired in. The Sennheiser Momentum Wireless is a pair of Bluetooth headphones with active noise cancellation and a sculpted, bass-forward sound signature. The one con to these phones is idle but could be important to some. When Sennheiser debuted its NoiseGard noise cancellation circuitry several years back, it was a standout in a field otherwise ruled by Bose. In 2015, Bose still rules the noise cancellation category, but Sennheiser, like most companies, hasn't been able to keep up. While the noise cancellation circuitry on the Momentum Wireless definitely decreases some ambient sounds like air conditioner hum or the rumble of a train, it also adds a slight hiss. This is common, for sure, and you won't hear it when music is playing—only when the headphones are on but there's no audio—but it shouldn't really happen with headphones this expensive.