As much as I love the results that running (particularly on a treadmill) has on my body and the extensive list of positive attributes, it's an exercise I can only do effectively if I am in the perfect environment. In other words I need plenty of distractions to take my mind off what I am actually doing. In other words, I must have my music blaring on my Dre's and/or something deflecting my interest on television or Netflix. I suppose running on a beach to the sound of the ocean would be a welcome distraction and credible replacement but left to the devices of the treadmill turning over repeatedly I wouldn't last a five-minute-mile. I think I'm not alone in this dilemma as the industry has taken notice and the innovations have made it possible for you to take your runs anywhere you want to with banal sound of gears being the last thing you'll be hearing. And in regards to those necessary "distractions" well these machines provide plenty of those to keep my attention in other places while I get the necessary cardio I signed up for.
Jogging indoors has become better than ever leaving us with all with little excuses for not getting into shape and keeping your New Year's resolutions, here are some of our favorites for getting you back on (the) track. However before you go out and spend the money on an expensive machine check with your doctor to make sure your heart and body are ready to handle the stress of an extensive workout.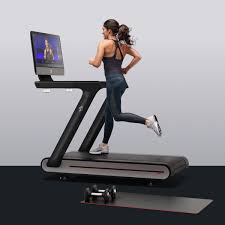 Peloton Tread – With the success of Peloton's spinning bikes, building a treadmill was the obvious next step. Unfortunately all of the early models have been sold out the more available later this year. The next rollout will have a large 32-inch HD touchscreen, which is the size of a TV, with 10 live classes each day and more on demand. Even with all of the visual improvements perhaps the best innovations are the functional options such as the knobs located near your hips for ease in turning up the incline and adjusting the speed. It is on the higher end in regards to price $3,995 but if it's in your budget it is worth investment and has the technology to grow and adapt to include VR in the future.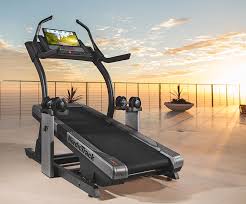 Nordic Track X22i  Incline Trainer – you can run with a virtual trainer on its 22-inch touch screen or use Google Maps to draw your own course to follow , but this machines' key feature is its maximum 40% incline. To put it in perspective that's three times the standard on regular treadmills. It also has 'hot buttons' that will help you quickly increase speed with a single push. $2,699 at nordictrack.com
Life Fitness Platinum Club Series – A supplier for many hotels and gyms, Life Fitness is feeling a push toward connectivity with its Discover SE3 consoles so that your stats, programs, and streaming content are available everywhere. Next up the brand will explore immersive VR running experiences. This unit is at the top of the price scale at $6,999.